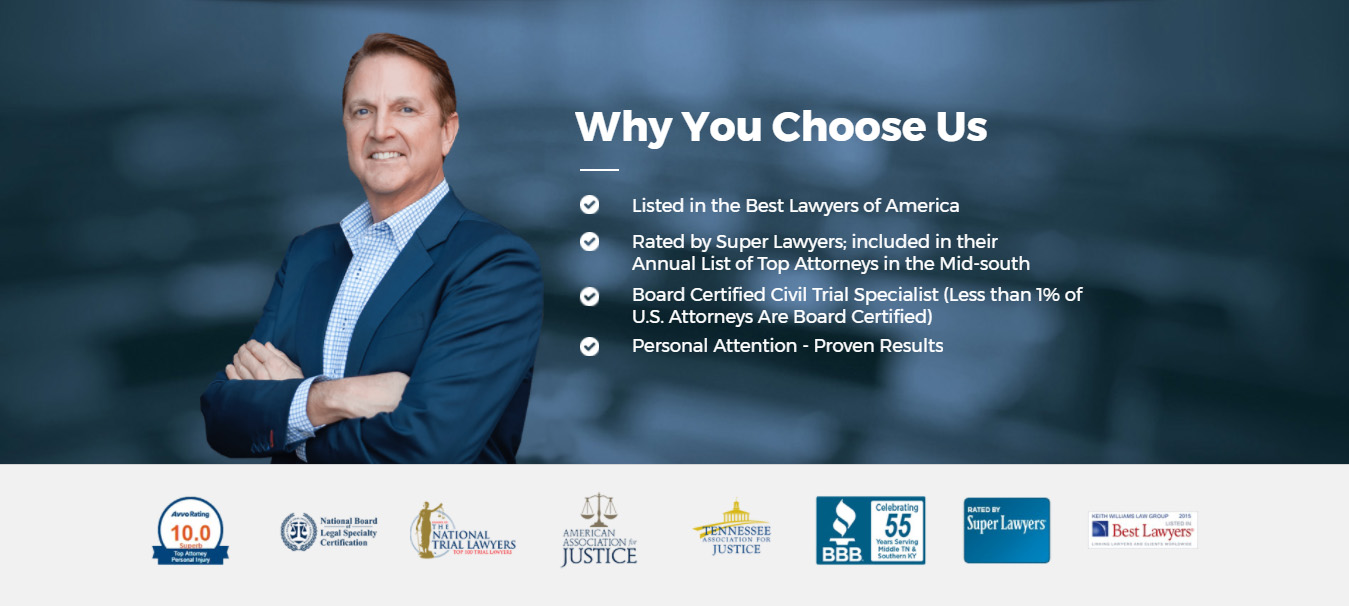 [metaslider id=3178]
Carthage Personal Injury Lawyer
Have you or a loved one been injured in an accident? Our experienced personal injury attorneys will maximize your compensation.
Call Keith Williams Law Group to schedule a no obligation, free consultations. We are a no win no fee law firm, which means if we do not pay any costs unless we win your case and recover compensation on your behalf.
Our leading team of personal injury attorneys in Carthage and South Carthage Tennessee help every day people who have been injured in an accident due to the negligence of someone else.
Over $50 Million Injury Compensation Recovered For Our Clients
Lead attorney, Keith Williams has been responsible for some of the largest judgements and settlements in Tennessee. Past results include:
$14 Million Motorcycle Accident Verdict
$8 Million Truck Accident Settlement
$8.3 Million Aviation Crash Settlement
$6.2 Million Car Accident Verdict
Winning Your Case Is No Accident! Winning in the court room takes experience, dedication, skill and hard work. Large insurance companies and corporations do their best to reduce your compensation entitlement. It is for this reason, that you should seek representation from the best personal injury lawyer in Carthage & South Carthage TN to represent you.
With over 20 years of personal injury law experience, Keith Williams Law Group has set the standard for Middle Tennessee. Founder and lead attorney Keith Williams is a Board Certified Civil Trial Specialist, and has been voted by his peers, as one of the best trial attorneys in Tennessee. He has helped clients with car accidents, motorcycle accidents, truck accidents as well as aviation accidents, and all other types of personal injury cases.
Carthage Personal Injury Practice Areas:
Car Accidents
Motorcycle Accidents
Truck Broker Liability
Truck Accidents
Child Injury
Business Litigation
Car Accidents
Motorcycle Accidents
Truck Broker Liability
Truck Accidents
Child Injury
Business Litigation
Personal Injury Damages Include:
Medical bills & treatment
Loss of income & future earning capacity
Permanent & temporary physical disability
Pain & suffering
Emotional distress
Property damage
Loss of relationship & consortium
Loss of enjoyment of life