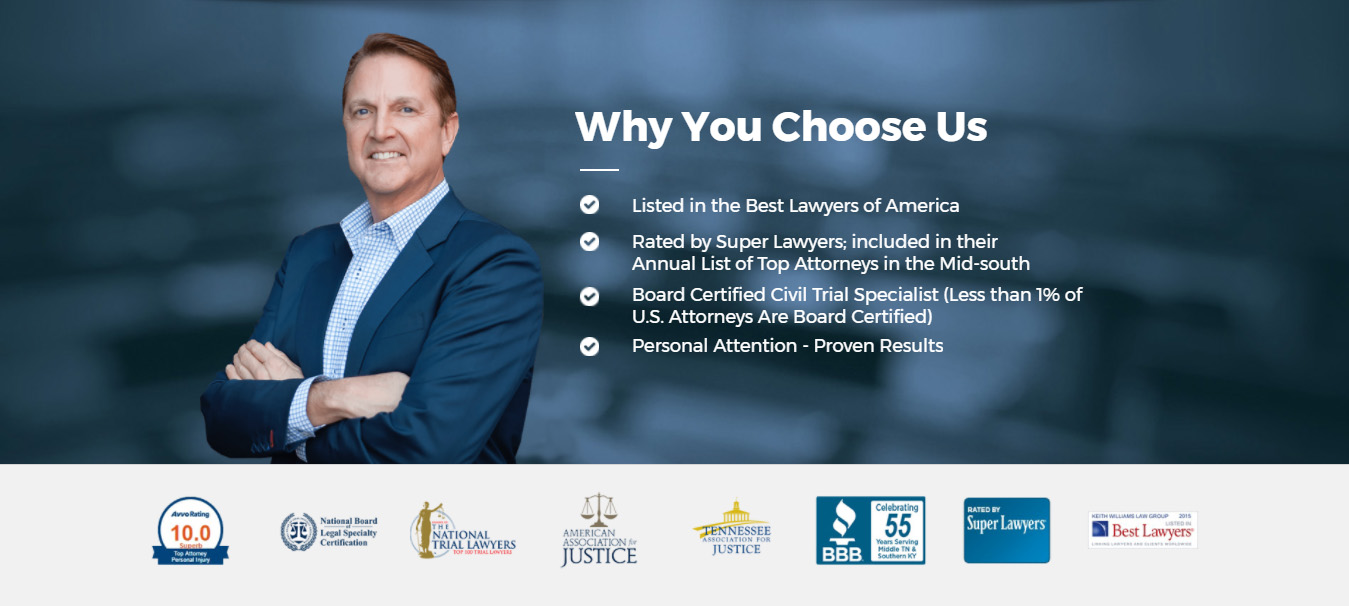 [metaslider id=3171]
Gordonsville Personal Injury Lawyer
Have you been injured in an accident in Gordonsville? Our personal injury attorneys will maximize your compensation.
Contact Keith Williams Law Group for a free consultation to discuss your particular case. Our representation for all injury cases is on a no win no fee basis, which means you do not pay any costs unless we recover compensation for you.
Our experienced and dedicated team of personal injury and car accident attorneys in Gordonsville Tennessee people who have been injured due to no fault of their on own.
Over $50 Million Injury Compensation Recovered
Attorney Keith Williams is one of the most experienced and well respected attorneys in Tennessee. He has been responsible for his clients being awarded some of the largest settlements in Tennessee. Some previous case results include:
$14 Million Motorcycle Accident Verdict
$8 Million Truck Accident Settlement
$8.3 Million Aviation Crash Settlement
$6.2 Million Car Accident Verdict
Winning A Personal Injury Case Is No Accident! It takes experience, dedication, skill and hard work to win a personal injury case. Large insurance companies do everything in their power to reduce your claim. That is why you should request the best personal injury lawyer in Gordonsville TN to represent you.
Keith Williams Law Group have been serving Middle Tennessee for over 20 years. Keith Williams is a Board Certified Civil Trial Specialist. Keith has been awarded as one of the top attorneys in Tennessee. Keith and his dedicated staff have helped people with car accidents, motorcycle accidents, truck accidents as well as aviation accidents, and all other types of personal injury cases.
Gordonsville Personal Injury Practice Areas:
Car Accidents
Motorcycle Accidents
Truck Broker Liability
Truck Accidents
Child Injury
Business Litigation
Car Accidents
Motorcycle Accidents
Truck Broker Liability
Truck Accidents
Child Injury
Business Litigation
Personal Injury Damages Include:
Medical bills & treatment
Loss of income & future earning capacity
Permanent & temporary physical disability
Pain & suffering
Emotional distress
Property damage
Loss of relationship & consortium
Loss of enjoyment of life
Contact Gordonsville Best Personal Injury & Car Accident Lawyer Today!
If you want a personal injury or car accident attorney that will fight for your rights to a full recovery and the maximum possible compensation, call Keith Williams Law Group today at 615-313-3999.
Our Lebanon Office at 137 Public Square #1, Lebanon is located about 26 miles from Gordonsville town center.