E-Cigarette / Vaping Attorney Nashville Tennessee
About E-Cigarettes & Vapes
The use of e-cigarettes, or electronic cigarettes, also called vaping, has been around for at least a decade now. It is only recently that the negative health effects of vaping have become a serious concern. E-cigarettes were originally touted as being safer than smoking conventional cigarettes and the rise in vaping has coincided with a decrease in smoking.
E-cigarettes use an electronic ignition system with a lithium battery to heat a container, called a pod, of liquid. Once the liquid is heated, the product released is inhaled in a process called 'vaping'. Most pods contain a concentrated form of nicotine, which is derived from tobacco.
Until very recently, some manufacturers have added flavors to make the use of the products more attractive. Juul, the largest manufacture of e-cigarettes in the U.S., has aggressively marketed its products towards young people. Apart from using attractive smelling flavors, Juul uses a container that is handy to use, looks sleek and attractive to youth and is easy to conceal. Many school age youth have become addicted to the nicotine in these products in what the U.S. Surgeon-General has called "an epidemic."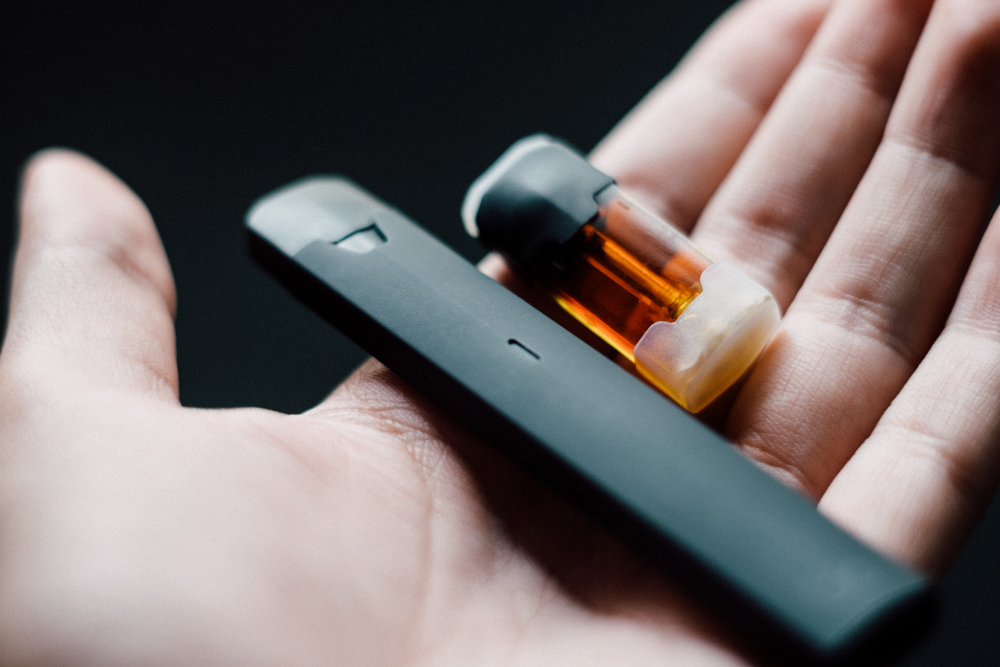 Health Risk of Using E-Cigarettes
The main health risks of vaping are:
addiction;
illnesses from inhaling vaping products;
The risk of addiction is very high, mainly because of the concentrated form of nicotine used in most e-cigarettes. An average pod of vaping product could contain as much as 30 to 35 times as much nicotine as an average conventional cigarette. Once someone has become addicted to using e-cigarettes, it is much more likely that they will develop serious illnesses.
Illnesses from using e-cigarettes or vaping include lung problems, seizures, stroke and increased risk of heart attack. Currently, there is no direct evidence of what exactly is causing the recent spate of serious lung illnesses which are the result of vaping. It is thought that it is the chemical nature of certain products in the e-cigarette which are causing the illnesses. Suspects include the nicotine itself, some of the flavors that manufacturers like Juul use, additives that are included in the vaping liquid, tetrahydrocannabinol or THC which is often added to the pods instead of nicotine and vaping products with unknown composition that are purchased on the street.
The number of people that has been recorded as having developed vaping related illnesses so far this year is over 800, 200 more than the previous year. Most of these illnesses have occurred in young people, including those of school age.
12 people have died so far this year as the result of developing lung illnesses, seizures or stroke associated with vaping.
Other injuries from the use of e-cigarettes
Apart from the ill effects of inhaling vaping products there have been a number of serious injuries caused by exploding lithium batteries used in e-cigarettes. Some of these injuries have occurred when the devices have been in a pocket or when held in the hand causing burns.
Prior / Current E-Cigarette lawsuits
There are a growing number of lawsuits aimed against-cigarette manufacturers and their major investors. Juul has been the target of many of these lawsuits, as well as the Altria Group / Philip Morris International Inc., which have a 35% stake in Juul. Other e-cigarette companies that have been sued are Imperial Brands and British America Tobacco (BAT).
Plaintiffs are mainly young people or their parents, who allege that Juul and other manufacturers are responsible for marketing highly addictive products and failing to provide clear warnings of their addictiveness, high nicotine content and potential health risks.
One current lawsuit has been filed by 2 Alabama college students against Juul Labs. They allege that heavy use of vaping products has led to serious breathing problems and lung disorders.
Another lawsuit against Juul Labs this year has been filed by a young man who alleges that his two pod a day consumption of vaping products led to a massive stroke. The plaintiff said that he has become addicted to using Juul's e-cigarettes after starting using them in 2015. The stroke has left him paralyzed on one side of his face
How Keith Williams Law Group can help if you have become ill due to E-Cigarettes
We are now taking claims against Juul Labs and other e-cigarette manufacturers!
If you, or a child of yours, have developed any kind of symptoms related to vaping, you should seek medical attention immediately. If your child has been using Juul e-cigarettes, or any of its vaping products, and has developed any kind of medical complications, or become addicted, you should contact the Keith Williams Law Group at (615) 313-3999 to discuss possible legal action.
We will work tirelessly to assess and fight your case.