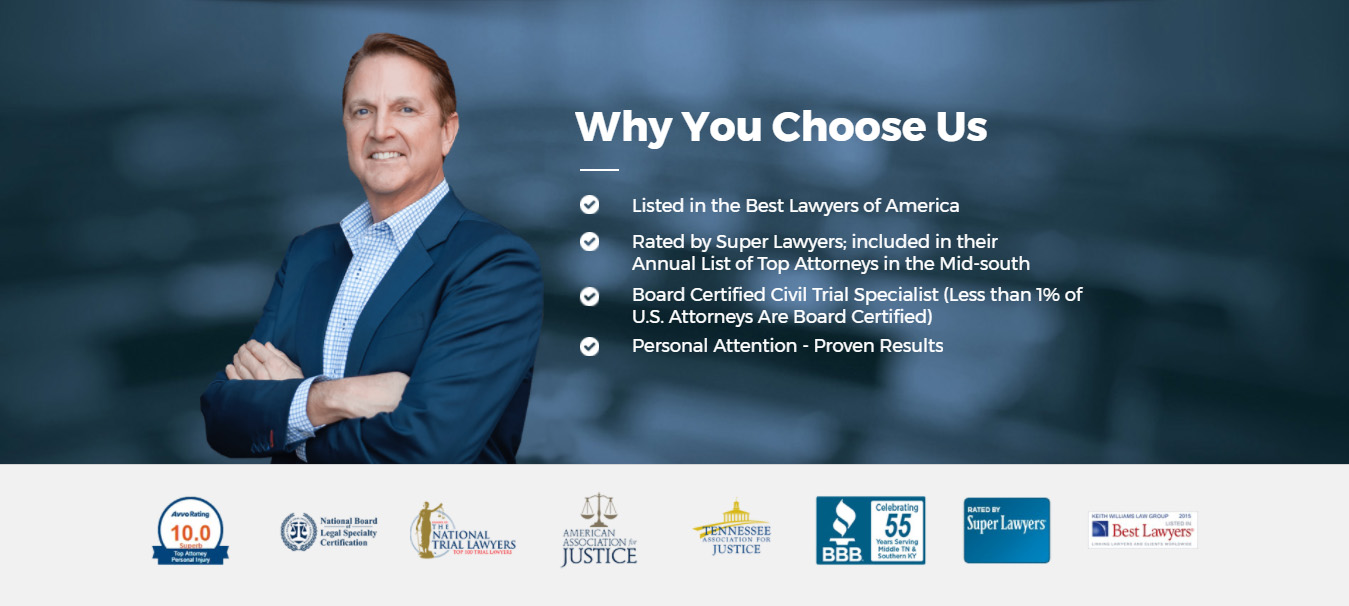 [metaslider id=3157]
Watertown Personal Injury Lawyer
Have you or a loved one been injured in an accident? Contact Keith Williams Law Group today!
At Keith Williams Law Group we offer free, no obligation consultations. Come in and discuss your particular case risk-free with one of our experienced personal injury attorneys in Watertown Tennessee. We work on a no win, no fee basis, which means we only get paid if we win your case!
Attorney Keith Williams is one of the most successful personal injury lawyers in the state of Tennessee. Keith and his experienced and dedicated team have helped thousands of people in Tennessee who were hurt in all types of accidents, including car accidents, motorcycle accidents and aviation accidents.
Don't take a chance on your rights to a full recovery and maximum compensation – use an attorney that has fought for over $50 million in injury compensation for his clients. At Keith Williams Law Group, we know how the insurance companies work and how they will try to settle your case for less than what you are entitled too. Put that experience to work for you, our team is ready to help you get the compensation you deserve.
What compensation can I receive?
Many people are amazed at what can be covered in your personal injury settlement. In addition to medical bills, property damage and items directly related to your accident. You are also entitled to present and future loss of income, as well as compensation for emotional distress, pain and suffering, loss of consortium and more. To ensure you receive everything that you are entitled too, contact Keith Williams Law Group
Watertown Car, Truck & Motorcycle Accident Attorney
Car Accidents
Motorcycle Accidents
Truck Broker Liability
Truck Accidents
Medical Malpractice
Worker's Compensation
Defective Products
Child Injury
Business Litigation
Disability Benefits
Aviation Accidents
Highway Work Zone Accidents
Choose the Best Personal Injury Lawyer in Watertown for Your Case
When choosing a personal injury or car accident attorney you should do your research. Check prior case results, find out how years they have been practicing for, what associations they are members of. Lead attorney Keith Williams has been voted by his peers to be one of the most experienced and successful attorneys in Tennessee. To view some of his previous case results click here.
Contact Watertown's Best Personal Injury Lawyer Today!
If you need an attorney that will fight for your maximum possible compensation contact Keith Williams Law Group today for a free, no obligation consultation.
Our experienced team of attorneys and support staff will carefully guide you through the entire legal process, so you can focus on your recovery.
Watertown is located 13 miles from our Lebanon office located at:
137 Public Square #1
Lebanon, TN 37087.